Before manually editing your APNs we recommend resetting the network settings on your phone.
Follow the instructions below to reset your network settings:
IPHONE
Go to Settings > General > Reset > Reset Network Settings. This also resets Wi-Fi networks and passwords, cellular settings, and VPN and APN settings that you've used before.
ANDROID
From the Home screen, navigate: Apps icon > Settings > Backup and reset.
Tap Reset network settings.
Tap RESET SETTINGS.
If resetting your network settings still has not corrected your APNs then you can manually edit them using the details below.
Q:

How do I enter APN details into my Android Device?

A:

Usually, it's something along the lines of this:

Settings ->
Wireless & Networks ->
Mobile Networks ->
Access Point Names ->
*Hit the Menu button* -> New APN
Enter the details you find below!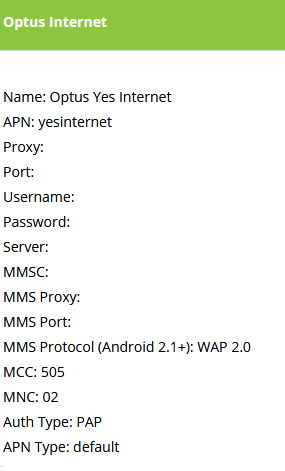 Note: If you are using a data SIM you need to replace "yesinternet" with "connect" in the APN field.